Welcome, all!
It's happening all over the world. Led largely by teen girls, a school strike to call adult attention to our planetary house afire has been held today in national capitals and small towns alike. The current count is 1693 events occurring in 106 nations with high concentrations in Australia, Belgium, Brazil, Canada, Chile, Czechia, Denmark, Finland, France, Germany, India, Ireland, Italy, Mexico, New Zealand, Poland, Portugal, Spain, Sweden, UK, and USA.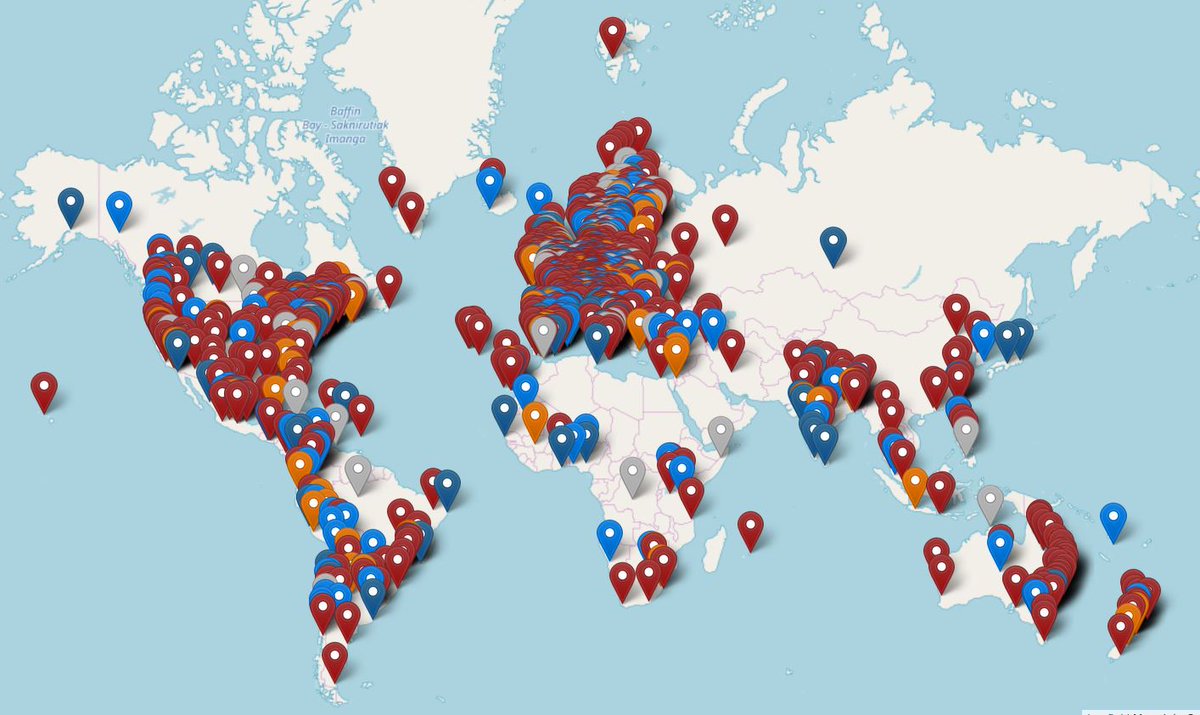 Who are the leaders of this instant, social-media driven campaign? I hope you have by now heard of Greta Thunberg of Sweden, whose unflinching look at the truth
which

led to her solo strike outside the Swedish Parliament in August 2018. ("For those of us who are on the spectrum, everything is usually black or white. We aren't very good at lying, and we usually don't enjoy participating in this social game....where everyone keeps saying that climate change is an existential threat, and the most important issue of all, and yet they just carry on like before.")
Here in the US, the Youth Climate Strike team includes Kallan Benson, my Maryland mover, and the four girls highlighted in this ELLE
magazine article, which is also proof that the movement is successfully grabbing the attention of us adults: sympathetic to the concern, gently recycling our plastics and driving more fuel-efficient cars while ignoring the urgency of the situation. Here is their mission statement.
We, the youth of America, are striking because decades of inaction has left us with just 11 years to change the trajectory of the worst effects of climate change, according to the Oct 2018 UN IPCC Report. We are striking because our world leaders have yet to acknowledge, prioritize, or properly address our climate crisis. We are striking because marginalized communities across our nation—especially communities of color, disabled communities, and low- income communities—are already disproportionately impacted by climate change. We are striking because if the social order is disrupted by our refusal to attend school, then the system is forced to face the climate crisis and enact change. With our futures at stake, we call for radical legislative action to combat climate change and its countless detrimental effects on the American people. We are striking for the Green New Deal, for a fair and just transition to a 100% renewable economy, and for ending the creation of additional fossil fuel infrastructure. Additionally, we believe the climate crisis should be declared a national emergency because we are running out of time."
And look at how these compassionately globalized young people seamlessly integrate intersectionality into their disruption of the social order— they understand that THERE IS NO DISCONNECT between the threats of climate-related disaster, poverty and racism, among others.
So how can we the climate believers, we the adult teachers and writers and poets do our part to rise up NOW, act up NOW, disrupt our own denial, "face the climate crisis and enact change"?
Well, yes, I am working on phasing out plastics from my household (sorry, Trader Joe's—my nuts are going to have to come from a bulk source). Yes, we are considering how in 2-3 years' time our family can move to a smaller home with a lighter carbon footprint in a location that supports emission-free transportation.

Yes, we just this week switched over to clean wind-powered electricity for our current house.
But none of those individual actions will make the impact that is needed now to avert climate calamity.

[Go here for a millennial-speak summary of the recent UN-convened Intergovernmental Panel on Climate Change (IPCC).] Instead, our action is needed to pressure our governments, from local town to national to multinational, to put in place the restrictions that our young climate activists can see clearly are needed.

How do we do that, we adult teachers and writers and poets? Well, by nature and by profession WE ARE MESSAGERS. WE ARE COMMUNICATORS. Our role at this moment is to amplify the voices of our young people and to convey their message far and wide and deep. Here's my list of a few ways to use your MESSAGING POWER, from easiest & most convenient to most costly of our time and courage.
1) Follow all these teen leaders on social media. Retweet relentlessly, like like like, favorite favorite favorite! This lets them know their message is getting through and spreads it wider. Start searching for teen leaders using #FridaysForFuture and #YouthClimateStrike. Reach outside your comfort zones of location and language!
2) Make sure that every student you teach and every adult you know understands the difference between weather and climate. This should help.
3) Get friendly with Resistbot.

"
Write to your officials in under 2 minutes! Text the word resist to me on Messenger, Twitter, Telegram, or to 50409 on SMS* and I'll find out who represents you in Congress or your state legislature, turn your text into an email, fax, or postal letter, and deliver it to your officials."
Even if you know your legislators, local, state and national, agree with you on this, your messaging to them matters.
Your texts, emails and faxes are counted and tracked.
4) If there are students striking in your school district,
support them by messaging their principals and superintendents.
Help the adults understand that these students are not "playing hooky," and that they're not missing out on any instruction that is more essential than engaging social orders and political systems in serious critique.
5)
Put your money where your mouth is.
The best way is to find an organization you trust and be a regular donor that they can count on for income, no matter how little. The dependability often matters more than the amount.
Follow this link
to find a list of 10 reputable nonprofits addressing climate change.
6) Put your
body
where your mouth is. If you are a teacher, consider taking a personal (yes, it's personal) or sick day (yes, the planet is sick!) and joining your closest #FridaysForFuture school strike.
Lend your bodily support to the students who are sticking their necks out.
If you are retired or self-employed and especially if you have children & grandchildren whose future you care about, consider joining or starting your own strike. Set yourself up on a bench with your signs in front of your closest state house on Fridays. Spread the word. If you're an introvert and you don't want to talk to strangers, make up a little flyer to explain what you're up to and how supporters can help. If 14-year-olds can do this, so can we.
We can do Numbers 1-6 without Number 7, but I don't think we can do Number 8 without it.
7) Number 7 is GRIEVE. Put your heart where your brain is. We know what we know: humans have, first unwittingly and then with knowledge aforesight, set the planet on a course to destruction within the next 80 years. It's real, and it's sad. Crying is appropriate. Existential despair is a natural response.
However, action is a tonic. Just ask Psychology Today: "The good news is that there is evidence to suggest that being an active participant in the fight against climate change increases a sense of self-efficacy, social competence, and creates a range of associated positive emotions."
8) For us messagers and communicators, the action is to WRITE. Writing is an action. Write a story or article for a kids' magazine, write a poem for the kids you know, write an ode to teen activists. Yes, celebrate nature, but don't sugarcoat. Kids can take the truth. They already feel the truth even if they don't know the truth; now they need ways to perceive it, process it, act on it themselves. Adult teachers, writers, poets: gather your grief and get out there and WRITE!
Some of our number have already taken that action in their posts for this week. Meanwhile I'm working on a new poem to go with the one I shared a couple of weeks ago that ramps up urgency, because this is NOT a piece of cake.
Thanks for reading, friends. I'm back from the the US Capitol for the #YouthClimateStrike now, where there was a small but powerful group of demonstrators. I'll post something about the event elsewhere. Thanks for these climate change highlights from this week's posts--I'm not including links which you can find by entering the "link party," but just noting where you might head first if you have limited time...
1.Kimberly Hutmacher has an original poem called "Warning: DIRE" and points us at a pair of useful book for the classroom focused on the effects of climate change on polar bears.
3. Mary Lee posts about a popular song beloved in the 1920's, "Five Foot Two, Eyes of Blue," which she recast in 2017 as "My Gal, Mother Nature." It makes my favorite kind of song: sounds happy, means sad.
4. Michelle Kogan has a commanding list of very specific reasons to strike, a poetic manifesto!
5. Tabatha has found that the Chicago Review of Books has a regular column called "Burning Worlds" which rounds up climate change writing!!! Columnist Amy Brady has a list of the best poems, and Tabatha has chosen a great one featuring bears, bees and Artemis.
6. Similarly, Linda Mitchell has discovered a trove of recorded climate change poems at The Guardian newspaper site and features one called "Storm" read by Jeremy Irons.
10. Linda Baie reports on some freaky evidence of climate change that hit Denver on Wednesday--a #bombcyclone of a sudden snowstorm.
14. Amy nails the whole project of the teenagers in simple terms for the youngest children in an action poem with heart, "Oh, Earth. You are my friend."
15. Ruth in Haiti is not posting specifically about climate change, but her reflection on the quality and steadfastness of the Caribbean sunlight certainly has its place in this discussion. After all, before the mitochondria were the powerhouse of the cell, the sun was the powerhouse of the planet!
16. Ramona and I have shared a Pleasure from the Page in Alice Schertle's "Secretary Bird" poem. I'm glad that her post confirms what I've been worried about--that there is indeed no period at the end of that last line, that our concern must be unstopped.
21. Christie has an original vernal pool "poem of caution" for her kindergarteners that wonders, "Is it too late?" I think not, with her young students getting the education she's providing.
30. Carol offers an eye- and passion-catching digitally illustrated poem that she has used to spread the word far and wide on Twitter.
32. The Eve Merriam poem Catherine shares is fine, but the real highlight of her post is her own Golden Shovel, a spot-on climate change poem with the striking line "They can shut me up but they can't change the truth."
35. Molly wallops us with the truth all over again in 15 words or less. We are going to have give up some of our cookies, and probably all of the frosting.